Working with the ASI to Bring stand-up-paddleboarding to the Philippines.
If you haven't been to the Philippines before you need to ask, why you haven't been there yet – I know I did!?
Situated in the western pacific in southeast Asia it is a diverse array of tropical islands; each its own paradise, with palm-fringed shores, stunningly clear water with radiant turquoise colours I have never seen the like of before, and friendly people always eager to help. The pace of life here is relaxed and slow, it needs to be, working any faster than snails pace brings about heatstroke pretty rapidly in the 35 degrees and near 100% humidity. In spite of its tropical splendor I was on the small island of Siargao, south of the capital Manila working (tough I know), helping bring stand up paddleboarding to the Philippines.
As an accredited paddleboard centre we form part of the world-renowned ASI (Academy of Surfing Instructors) network. Over the years I have been working my way within the organisation delivering workshops teaching people to teach, something which I am very passionate about stemming from my years as a University lecturer. I am now currently the ASI's Master Trainer and have been fortunate enough to travel to various places around the world helping to develop the sport of paddleboarding by delivering the ASI's instructor educational programme. For the past few years I have been over in Taipei, Taiwan and now Siargao helping local paddlers develop skills and become paddleboard ASI instructors.
Making a difference
The days were long and incredibly hot, always in the 35 to 40 range, water temps were warm enough to scoop up and make a cup of tea with! Working with eleven students in these conditions was challenging to say the least particularly when English is not the primary language.
All eleven candidates came from a variety of backgrounds, some had worked in Europe, others had made it to the main island for a short spell while several were local, having never left their village let alone Island, working hard hefting coconuts, the main export of the islands, and hauling fishing nets. Three lads, in particular, came from this background but were also full-on froth dogs, surfing whatever they could on one of the many outer reef breaks. Boards are expensive when you are paid in Pesos and quite often the local surfers are out on the water using equipment dating back decades, left behind from passing westerners. There was nothing more inspirational than these three lads –
thanks to Angel, an amazing local lady passionate about the ocean and raising the standard of living of her local village, Angel set up a paddleboard club near Santa Fe not far outside of the main town of General Luna or GL as a way of bringing education to the local youth. Quite often a drive through town was punctuated with an abrupt stop, asking errant kids why they were not in school that day, Angel, literally lived up to her name daily, a guardian keeping an eye on those around her.
In a bid to develop the sport and paddle tourism on the Island, Angel and her husband set up the Pacific Deep Paddle Games, no mean feat in itself given that getting boards to the Island is almost as challenging and expensive as getting a man to the moon. The prize, top three places receive free ASI instructor training. By sheer force of will these three lads flew around the course, diamonds in the rough. Of everyone on this course these three were truly the success story, working hard to improve their technique and lesson delivery every day, passed the course in flying colours.
On the face of it it does not seem such a big deal but, it is, it means that instead of earning Pesos the lads now have the potential to earn pounds or even travel the world earning significantly more money abroad. This is only possible because the ASI award is the only instructing accreditation recognised globally, allowing instructor certification to be recognised in ASI schools in Australia, Portugal or even here at the Ocean Sports Centre on Carbis Bay. It is always a privilege to come to such remote places and helping fan the flames of a new sport but none more so than watching these three lads, Russell, Vicent and Jaysen flourish.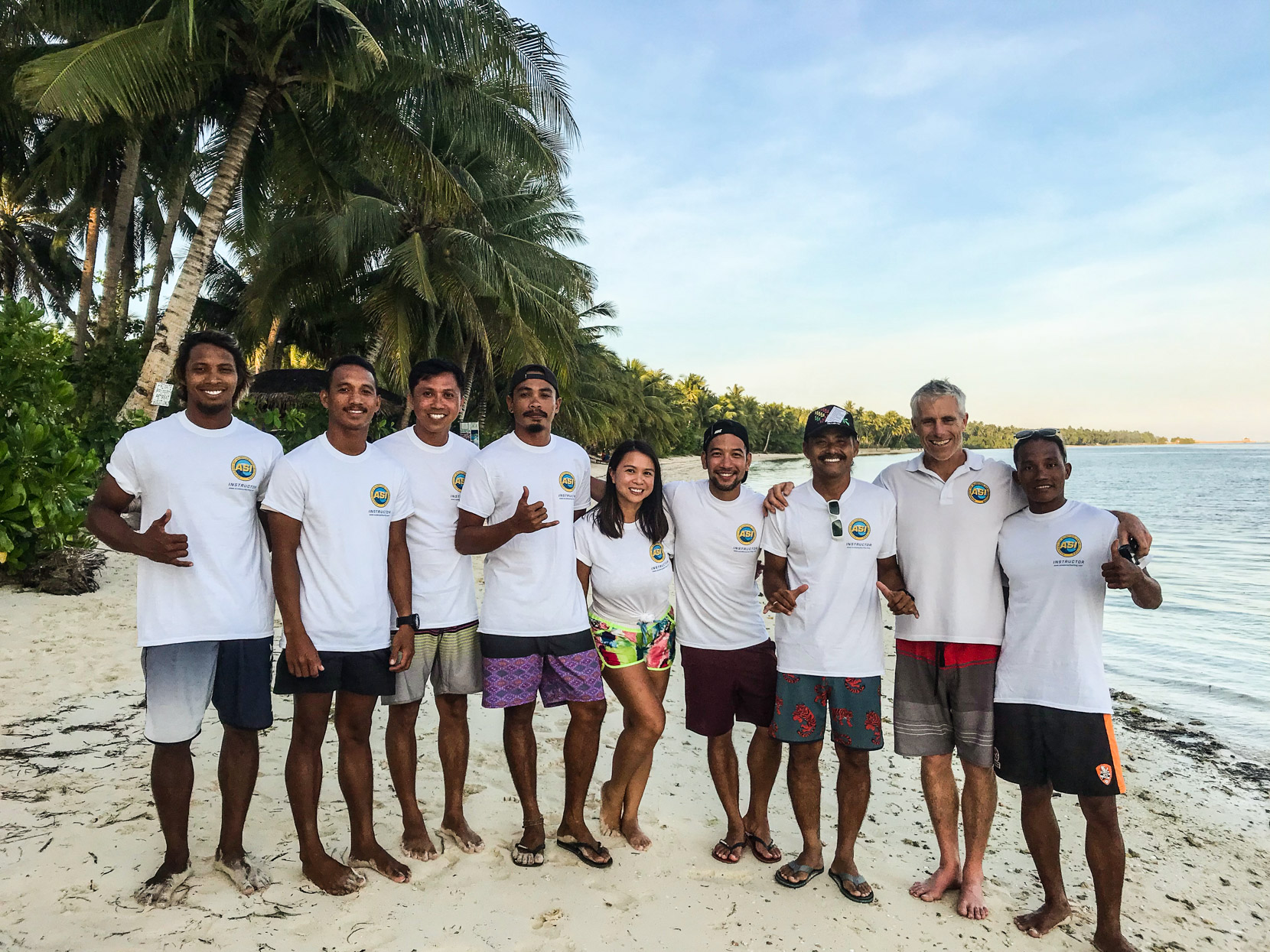 Firefly's, shore crabs and lightning bolts!
In spite of the long days, having come so far making the most of this stunning Island was a must. Up at 5am before the sun rose and the heat hit, produced one of the most stunning sunrises I have ever seen.
It is just at around this time shore crabs are busy scurrying their way along the beach, clearing their holes, and dancing around larger rival crabs.
Nighttime often brings a different natural phenomena, stored heat throughout the day is often released in an amazing show of electrical pyrotechnics lasting hours out at sea, even better firefly's jig their way around the palm-fringed shore – sitting there at night I realised how trivial TV is, who needs it when watching all of nature's marvels unfold in front of you.
I hope Siargao needs more paddleboard instructors sometime soon!