The Bucca Kri – All the latest information

Race on Hold until 2023
After the massive interest in 2020 for this one of a kind we were devastated not be able to run the Bucca Kri – but on the grand scheme of things it really was very low down on the list of important things occurring that year. With optimism in our hearts we thought that there would be no doubt that we would run in 2021 – unfortunately, this is now not the case. With a significant number of offer seas competitors wanting to take part in this event and with international travel in limbo in light of mainland Europe's third wave we are simply going to make a clean start in 2022. Not only that, we even have the Worlds leading figure heads arriving that same week for the G7 summit, rummer has it the British flagship aircraft carrier, Queen Elizebeth will be parked in the bay, effectively closing it off to all water users for an indefinite period of time!
With full restrictions being lifted by June 21st, G7 our June 5th date was cutting things too fine. Hence, our move to 2022 for a similar date (first week of June).
Future updates will be announced via our Facebook page (Ocean Sports Centre) and included here.
Take care everyone.
The Bucca Kri is a 55km stage race along the south west peninsula of Cornwall encompassing a multitude of ocean going craft. Starting from the Ocean Sports Centre at Carbis Bay beach, rounding Trevose head finishing at Harlyn beach. The event format, is broken into three legs of varying distances, each with its own characteristics and technicalities that have to be overcome. Stage one Carbis Bay, St'Ives to St'Agnes (23.4km), stage two St'Agnes to Newquay harbour (16km); stage three Newquay Harbour to Harlyn Beach (17.7km). The event can be completed as an 'Iron' in any discipline as an individual (SUP, Ski, Prone, OC1) or OC6 with paddlers completing the entire course on their own or without any changes to that pairing or OC6 crew. This category is reserved for Elite paddlers only. Alternatively none elite can complete the course in the Challenge category as a relay – SUP, Ski, Prone, OC1 (mandatory three people) or team (crew change OC6).
With an early start from Carbis Bay, St'Ives (start approx. 0700 hrs) we have the option of running the event in reverse from Harlyn (start approx. 1300 hrs) if the wind is from the north east; Sunday will be our back up day. Safe operating conditions for the event will be set at an upper limit of Beaufort 5 (wind speed of 21 knots or 24 mph) and a two metre westerly swell at 15 seconds. Beyound this we do have the option of running an alternate leg provided conditions are safe to do so. Beyond this, only the Elite field would be able to participate again, completing the leg with the best conditions for paddling and safest for paddlers and escort crews out on the water. The cut off point would be a Beaufort 6 (25 knots) for all competitors.
Event Supporters
We are pleased to announce that Aquasport International are the Premier support of the Bucca Kri prone division and are putting a crazy prize up for grabs. All entrants into the prone board category irrelevant of age, challenge relay or Iron will have a chance of winning a FULL CARBON 12ft prone board. The V12 is a world leading board design developed through collaboration with a number of very experienced ocean watermen enabling the board to excel in downwind conditions like the Bucca Kri.
Aquasport International, developer of the V12 CARBON PRONE RACE BOARD is based in Newquay, Cornwall UK and have been servicing the Lifesaving, Surfing and Lifeguard industries throughout Europe ever since 2009; you can find all of their amazing products by clicking Aquasport International
Classification
In order to ensure safety out on the water Elite paddlers wishing to complete the course in its Iron format and all Youth paddlers must be able to provide evidence of competency which can be ratified independently via previous event results, organisers and or coach, completing similar type of distances in training with the support of GPS plots and or level of expertise e.g. competition at National or International level. Those falling outside of these categories will be completing the event in either the challenge or team format.
Cry of the Bucca
The Bucca Kri is from Cornish Folklore, originally a sea spirit from West Penwith but more commonly associated by local fisherman as a raging storm coming in from the south west, the kind of swell event we need to surf the 55km toward Trevose head. It is said that fisherman have heard the Bucca on prevailing south westerly winds foretelling of the impending storm, in the Cornish language the cry of the Bucca is known as the Bucca Kri. Such providence is in keeping with the ethos of the event, a south westerly is our prevailing wind and exactly what we need to surf up the coast; the goal of every paddler is to make it home before they hear the cry of the Bucca chasing them on the wind.
Cut off Time & Check Points
Mandatory check points will be located  at St. Agnes and Newquay harbour, paddlers must stay ahead of the Bucca Kri, the mandatory cut off time for all paddlers. If the Bucca Kri is heard paddlers must withdraw from the event at that check point. Each stage has varying cutting off times from the leader paddler in each division; at stage one the last paddler from that division must be in within  40 minutes of the leader from that craft category and stage two 20 minutes. In total, each stage will have a maximum of 60 minutes rest before each craft category has its own mass start. Each stage will have its own shelter, feeding station and First Aid available.
Craft
Prone: 10'6 (challenge relay only), 12ft and 14ft
Ski: single and double
Outrigger canoe: OC 1, 2 & 6
SUP: 12'6 (challenge relay only), 14ft
Age Categories
Youth 16 to 21 years*
Open 22yrs+
Masters 60yrs+
* Youth categories will only be able to complete the event as part of the challenge relay and must provide evidence of being capable of completing the distance.
Cautionary Note
It is vital that all paddlers ensure that they take responsibility for their own actions and that by entering this event they are doing so under the premise that they possess the skills and state of fitness to do so safely. There can be no illusion that by ignoring your own personal accountability that, if in the event of needing assistance, water rescue crews safety are potentially jeopardised. If conditions on the day are beyond your current competency it is your responsibility to withdraw from the event.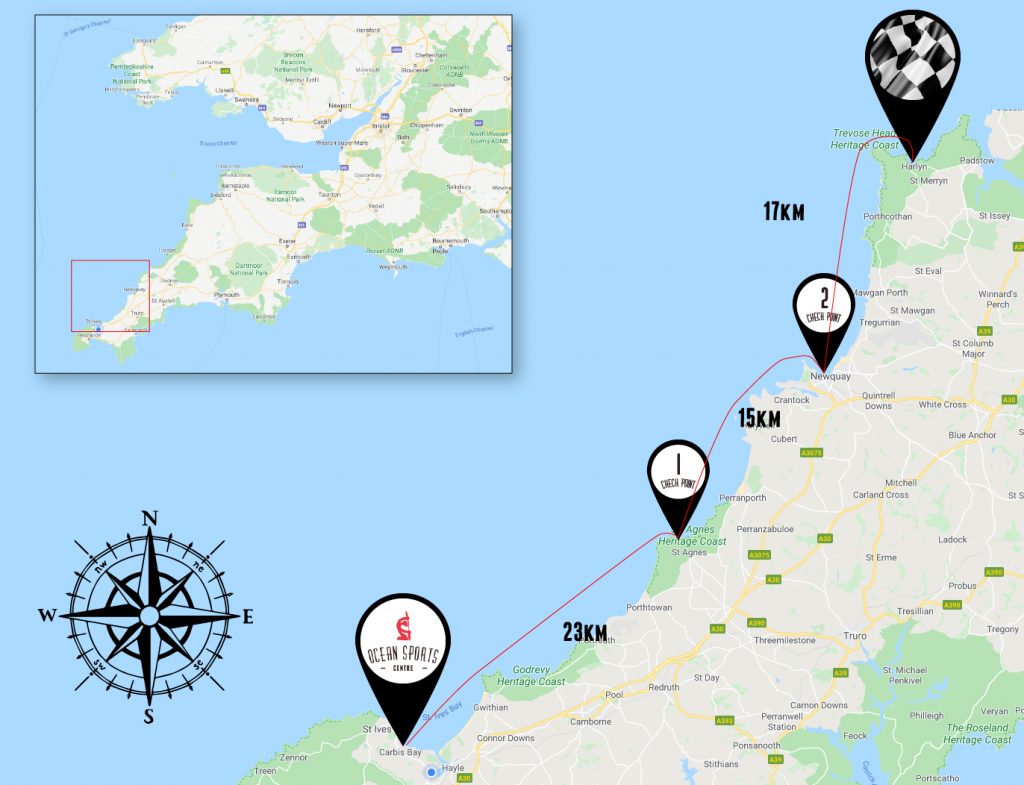 What's Involved
The event will cater for Elite and Intermediate paddlers; only Elite paddlers can complete the event as an 'Iron' whereas, less experienced paddlers are able to complete the challenge event as a relay team and changeover outrigger crew.
Change over check points:
Carbis to St. Agnes 23.4km
St. Agnes to Newquay head 14km (16km to harbour)
Newquay head to Trevose head 14.5km (17.7km to Harlyn)
We have chosen tides which allow for the course to be run in reverse, leaving on a 7am tide  (subject to adjustment on the day dependent upon prevailing conditions) at the Ocean Sports Centre, Carbis Bay and allows a full six hours of tidal assistance. If the wind is from the North East we will be able to run in reverse leaving midday from Harlyn beach, finishing at Carbis bay.
The event will involve some immense logistics along with unprecedented safety cover; based upon interest so far we are looking at in excess of one hundred and fifty paddlers, this will require at least ten water safety crews, a staff of land based spotters on standby at key locations throughout the route as well as real time online tracking systems giving competitors the greatest degree of safety.
Event Cancellation
Obviously there are some pretty hefty logistics and infrastructure we need to put in place ahead of the event and dealing with mother nature is not always a straightforward affair. Our safe operating conditions have already been outlined above and we will do our upmost to ensure we are able to run an event; safely, for competitors and safety crews alike. Our remit is to operate in sea states of Beaufort 5 with an upper wind speed of 21 knots (option A), beyond this only Elite paddlers will be eligible to complete the event with an upper sea state of Beaufort 6 and a wind speed of 25 knots ideally in its entirety (option B) or the safest section of the course. Beyond this, given that we have safety crews and logistics in place we will we do have the option of using the St'Ives bay as a possible fall back position for all paddlers (option C) as a last available option.
Back up Day
Sunday will be our back up day if it provides safer conditions.
To help competitors plan logistics the event will use a traffic light system providing competitors with regular updates of likely scenario including direction of travel based upon forecasts. First update will provide a general over view and likely scenario on Monday April 27th, a more definitive update will be provide on Wednesday April 27th with a final decision being given on Thursday April 28th.
Green Light = event go ahead, full course all categories (option A)
Amber Light = restricted event go ahead (option B or C)
Red Light = event cancellation
In the event of neither of the alternative options becoming viable and the event cancelled the organisers will provide a 70% refund.
If a competitor is unable to compete and cancels their entry with more than 14 days notice 70% of the entry fee will be refunded. Within this 14 day window up to the final 24 hours a 50% refund will be provided. Any cancellation by competitors within 24 hours May 2nd no refund will be given.
Aquasport International
AQUASPORT INTERNATIONAL, the developer of the: V 12 CARBON PRONE RACE BOARD is based in Newquay, Cornwall UK. We began business in 2009 and have been servicing the Lifesaving, Surfing and Lifeguard industries throughout Europe ever since. Our success is built on customer service and we specialise in high quality, high performance labels. Australian founder, Scott Wood (Woody) has been a member of surf lifesaving since the age of five (Manly LSC, NSW, Australia) and has competed and raced around the world for the past 35 years.
V 12 CARBON PRONE RACE BOARD
'The V12 Carbon Prone Race has been developed through collaboration with a number of very experienced ocean watermen and focusses on amazing longitudinal stiffness to eliminate the board being 'wedged' in between swells, great volume, incredible lines of design as well as offering a degree of stability in open ocean conditions'
The Event is supported by: