Stand up Paddleboarding Lessons, Clinics and Tours
We offer SUPwise approved Stand up Paddleboarding lessons, clinics and tours in Carbis Bay. A private Blue Flag beach, part of the stunning St Ives Bay, Cornwall and the perfect location for Stand Up Paddleboarding. Where-ever you are from and however you like to learn, we have the perfect SUP lesson for you.
Whatever your Stand Up Paddleboard ambitions our private and group lessons will quickly get you up and riding and improve your skills. Get exactly what you want out of a lesson by having private, one to one coaching or lower the cost and meet new people by joining in on one of our group lessons which run daily throughout the summer season. Our SUP Tours are perfect for families, friends or groups to get out on the water. Try the legendary Mega-SUP's for fun and races. The Ocean Sports SUP Clinic's are a great  way to hone your skills in the company of like-minded people.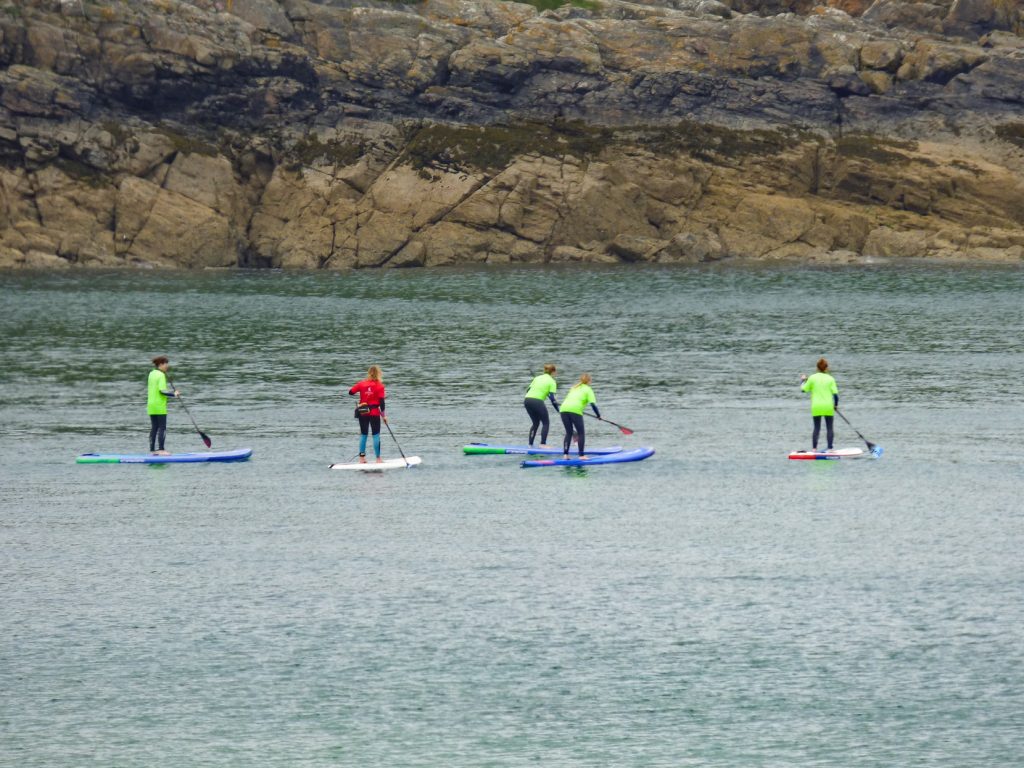 Stand Up Paddle boarding Group Lesson
A 2hr group lesson giving you the bare bones of how to get out on the water, up onto your feet and keep safe.
We will take you through the basics of 'popping up' and how to paddle your board in a straight line. This is a nice way to try your hand at this amazing activity and explore the sandy coves of Carbis Bay safely while meeting a group of people with a similar ability.
This session is also a great little refresher to get you going again.
£35 per person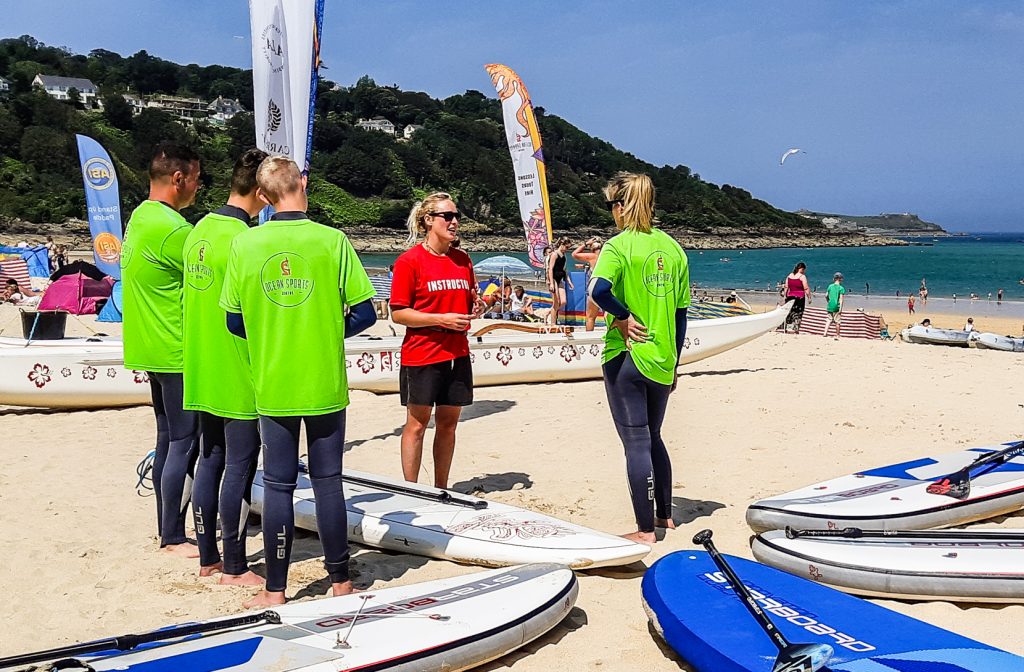 Private Stand Up Paddle boarding Lesson
Whatever aspect of your paddling you want to develop, one to one private lessons are the quickest way for you to learn, progress and make the most of your time on the coast. From a complete beginner looking to learn the basics to advanced riders who want to polish up their downwinding skills or focus on a bit of wave riding, private lessons allow you to dictate the pace and content of your lessons.
Choose from either 1 or 2 hour lessons with an instructor. You can have up to 5* additional people of similar skill levels join you.
£65 per hour
*£25 per additional person, upto a maximum of 6 people per lesson.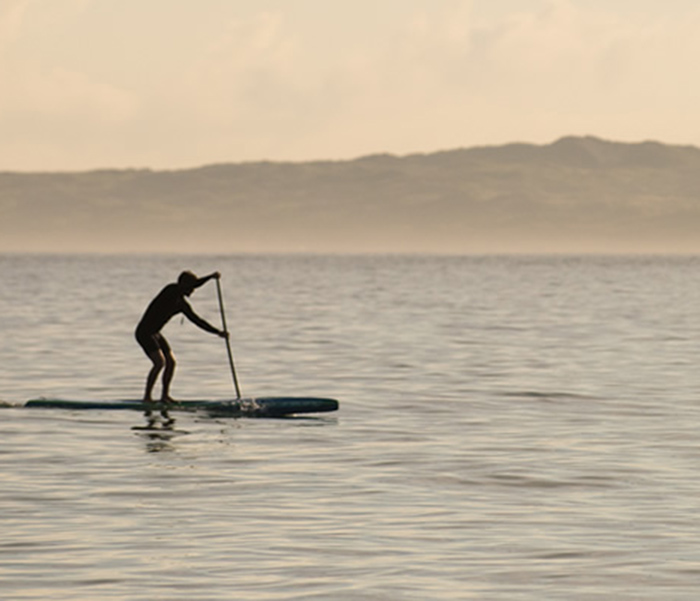 Stand Up Paddleboarding Clinic
Our fun and fantastically affordable SUP Clinic's are a great way to build your skills on the water. You will focus on specific techniques to develop your full range of freestyle riding including airs, grabs, rotations, jibbing and buttering, rails, boxes and halfpipe riding. If you have something specific you want to work on then our instructors will focus on these areas so you can progress in the areas you want to develop.
We currently don't have any Clinic's scheduled. Please join our mailing list if you want to be the first to hear about our next Clinic and to take advantage of our early bird booking deals.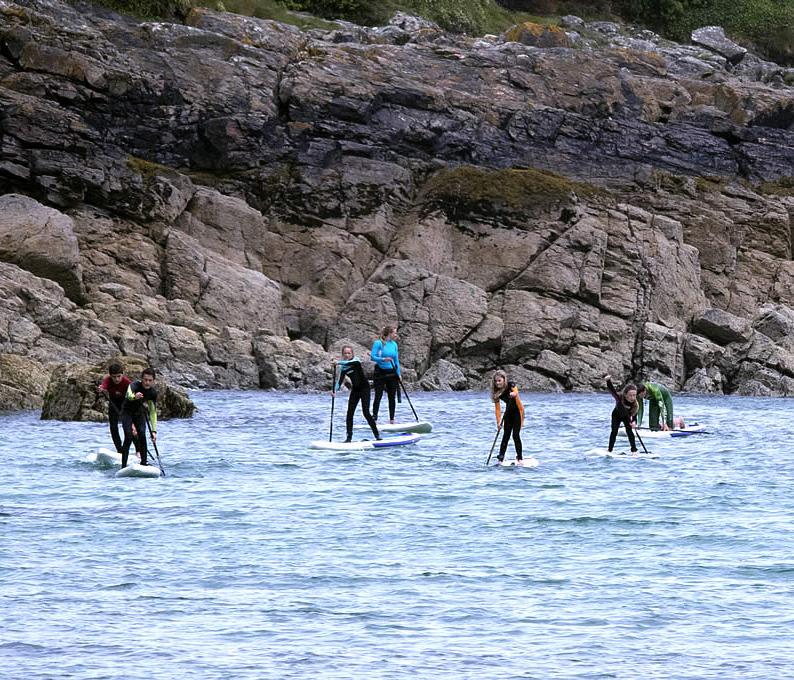 Stand Up Paddleboarding Safari
SUP Safari can be a full-day or half-day exhibition. The half-day starts at 9.30 and finishes at 12.30 and is based around Carbis Bay with an in-depth look at the local wildlife as you paddle around the bay picking up paddling hints and ocean safety tips as you go.
When you sign up for the full day experience you know that this is going to be something special. The full-day option is only available by boat and it allows us to SUP in multiple locations. Bring your lunch with you as we ride along the coastline, choose a spot, anchor up and explore. Once watered and fed we pick up anchor and head to our next location.
From £95 per person
*you need to be able to confidently paddle a SUP to participate in a SUP Safari although we can replace SUP's for a kayak in needed.
Expert AALA accredited tour guide
Wetsuit
SUP Board
SUP Paddle
Life Jacket
Changing facilities on the beach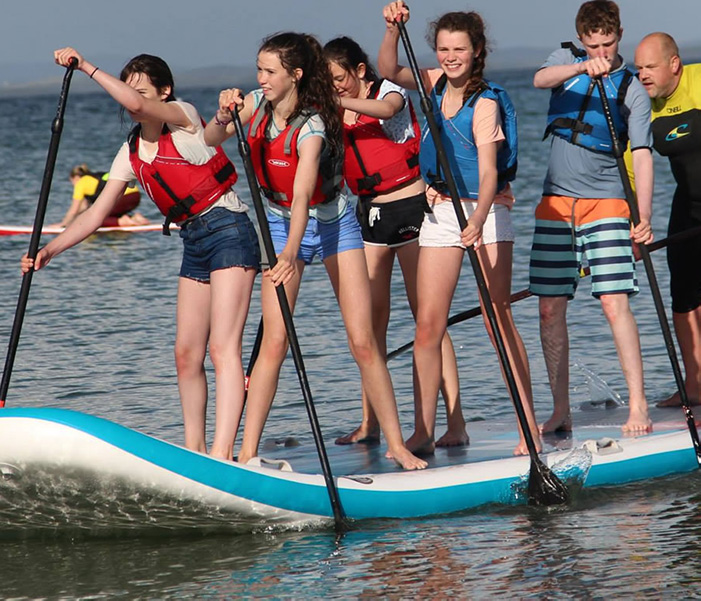 Do something different with your family, friends or colleagues, get them outside and in the ocean. The Mega SUP group activity is the most fun you'll have on the water and is a great opportunity to get everyone outside, reconnecting with nature and on the water in a safe, enjoyable way.
All our group activities start with a safety briefing, a quick lesson, and guided kit tour. Once on the water we can spice things up with the option to add extras such as; racing and team games. On request, we can end the event with a BBQ on the beach.*
*BBQ supplied at additional cost. Please request at the time of booking.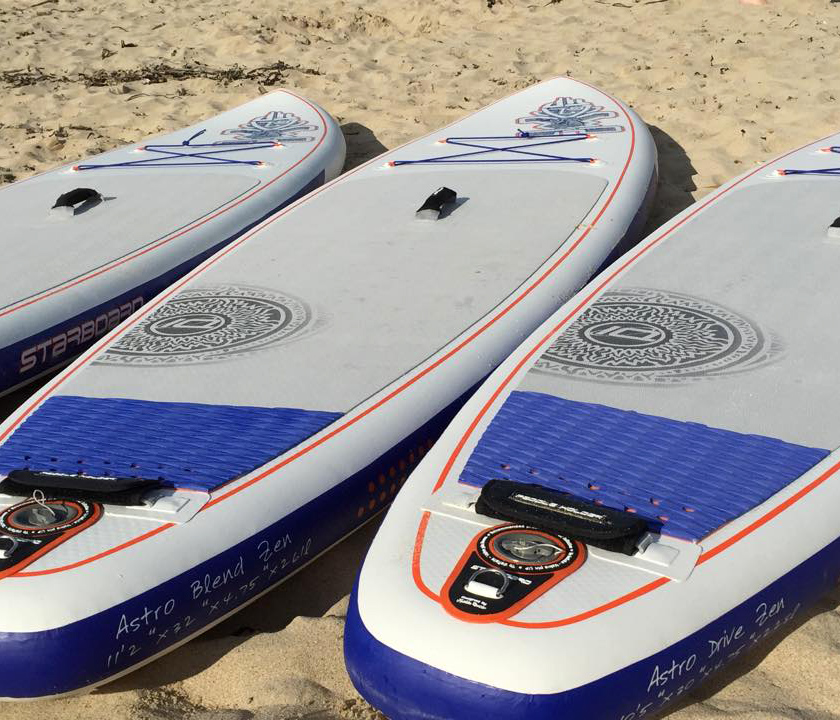 Stand Up Paddleboard Hire
SUP, or in the Hawaiian language Hoe he'e nalu is an extremely social way to enjoy the ocean, unlike surfing, learning to stand up can take minutes and gives paddlers a unique perspective out on the water allowing you to see deep through the water and coves.
Our Hire Center works on a "Splash and Dash" policy, just turn up and take what's available. If you would like something more definite have a look at our SUP Lessons or Tours section where you can book SUP activities or email us with your specific requirements.
| | | |
| --- | --- | --- |
| Stand-up-paddleboard | One Hour | Half Day |
| SUP Board | £10 | Please ask |
SUP Board
SUP Paddle
Changing facilities on the beach
Reduced wetsuit hire if required
Please be aware all our ocean-based activities are weather dependent.
Want to be part of the fun?
Sign up to our mailing list and be the first to hear about Events, Special Offers and goings on at Ocean Sports Centre.
We will never pass on your email and we will only send you stuff from the Centre.