We understand that making the transition from predominantly sheltered water paddling to out in the open ocean can be daunting and at times downright frustrating. So we have developed the Ocean Skills Workshop to help you make the transition from flat water battler to gliding down ocean swells with ease – our ethos is to share our combined knowledge to develop both confidence and skills in a safe but challenging environment. Where better to do that than at the heart of open water paddling in the UK, the Ocean Sports Centre on Carbis Bay Beach.
Our Ocean Skills Workshops are tailored to meet your needs, and maximise the conditions on the day. From developing rough water and downwind paddling to becoming more technically efficient. As well as learning how to build training programs that work for you, the prevailing conditions and help you get the most out of every paddle.
Improved rough water skills

Introduction to wave riding

Improved downwind paddling
Increased ocean confidence

Conditions reading skills

Fitness management
The Ocean Sports Centre at Carbis Bay in St. Ives Cornwall is one of the best paddle locations in the country. You can hit the water in calm conditions in the sheltered bay and within a very short distance you could be taking rides for 200m over at the 'Poles', or head over to the 'Island', and you can turn into the teeth of a westerly and immediately start chasing bumps across the bay.
With both the North and South coasts within easy reach a variety of downwind routes are available almost on every point of the compass – whatever your current level there will be conditions that will bring your ocean skills on in leaps and bounds.
Of course you can bring your own equipment or you can arrange to hire kit for the use in the workshop. However, we are a Starboard test Centre, with enough notice we are able to request specific demo boards for you to try when out on the water as well as having our own demo boards available. We also have a limited number of skis available, we can provide Epic and Fenn skis, please contact us to discuss which ski would suit you.
As with all sports  technique is everything and paddling is no exception, no matter the level of performance old habits can take hold and are often hard to shake when on your own, having someone objectively watch you paddle can break this cycle and bring rapid rewards
The Ocean Skills Workshop helps to develop greater awareness of forward paddling mechanics borrowed from the engineering concept of tensegrity. This is supported by the wealth of paddling and coaching experience of Glenn Eldridge, one of the worlds foremost ASI (Academy of Surfing Instructors) Stand up Paddleboarding instructors, current member of the British Stand Up Paddleboarding race team, head coach of the British Ocean Ski team and former member, as well as representing, Great Britain in Sprint Kayak at European, World and Olympic qualifying events.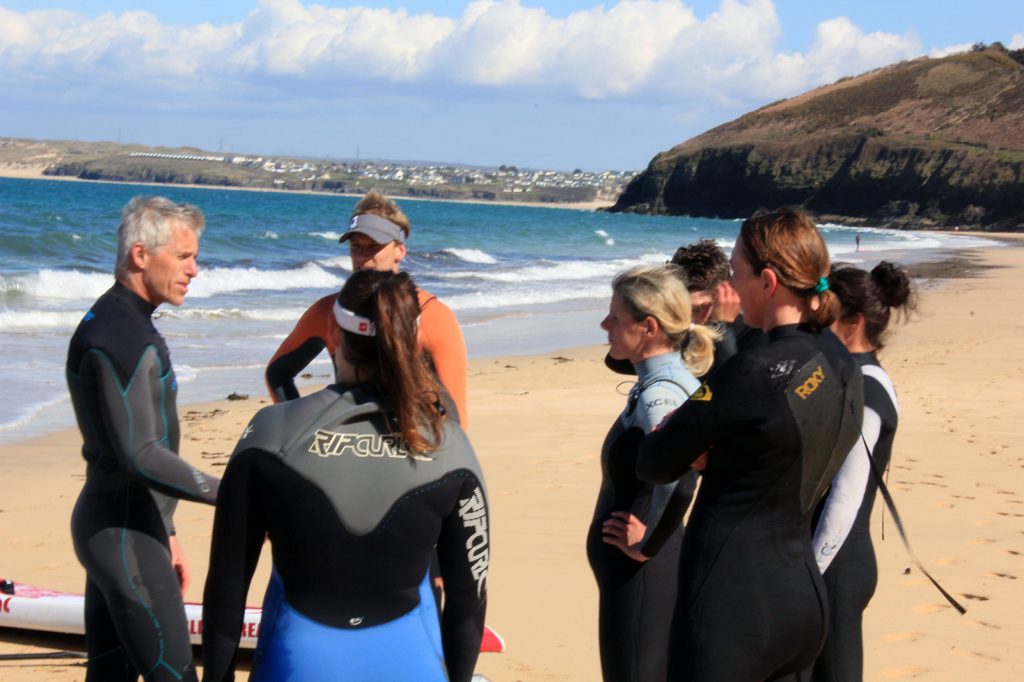 Downwind is the most fun that can be had when open ocean paddling. Despite this, paddling downwind can be immensely frustrating, constantly missing the 'right' bump or slewing sideways on bigger days particularly as others seem to effortlessly slip by. This is what makes downwind paddling a unique mixture of art and skill.
Having spent a lifetime on the ocean, salt water is almost part of our DNA now – we are constantly honing skills and developing new coaching methods to help demystify the art of downwind paddling.
We will help you recognise the right swell or bump to go for; when to paddle hard and when to ease off. Ultimately we want to get you onto the faster moving lumps of open ocean swell with the least amount of effort. The aim is, to paddle confidently with correct technique, negotiate swells and above all be safe.
Day One
08.00 – Arrival, breakfast and welcome
08:30 Glenn Eldridge – introduction and safety review & overview of conditions, paddle routes and weekend timetable
9.30 – Break
10:00 – First orientation paddle from Carbis Bay beach.
11.30 – Paddle review and Ocean Skills workshop – pt1
12.30 – Lunch
1.30 – Ocean Skills workshop pt2
2.30 – Break
3.00 – Ocean Paddle no2
4.30 – Ocean paddle review – points to work on
5.30 – End of day
6.30 – Dinner
Day 2
8.30 – Breakfast and Conditions & safety review
9.00 – Day 2 aims and goals
10.00 – Paddle
11.30 – Paddle review
12.30 – Wrap up
1pm finish
If the conditions are good there could be the option of an afternoon BONUS paddle from Carbis Bay starting at 2.30 although this will be just for fun and not part of the course.
The Ocean Skills Workshop is a 2-day course designed for intermediate to confident Stand up paddlers who are looking to improve their ability in open ocean conditions. You will be getting out on the water in waves and downwind settings, so please come prepared to get wet.
Whether you simply want to brush up some old rusty skills or develop new ones, our clinics are the perfect way for you to share the experience and meet like minded people. Click on the booking icon below and select the date which best suits you and ready yourself to experience paddling like a pro!
We have three workshops available over the next six months. Space is very limited and the demand is high for these unique clinics. If you truly want to impress next summer, get yourself booked on one of these courses and up skill yourself!
Workshops focus upon either Stand Up Paddle Board or Ocean Ski (including surf life saving spec skis). Simply select the date for the craft you would like to paddle on.