Hire Kayaks, Stand up Paddleboards, Mega SUP's, Wetsuits, Deck chairs and Windbreaks.
Why have the hassle of bringing your own toys to the beach when you can use ours!
We have a wide selection of one and two person sit-on plastic Kayaks, Stand Up Paddle boards, Mega SUPs (eight person paddle board), wetsuit hire and body boards for you to chose from.
We also run beach hire, so that you can sit back and relax while others are messing about on the water – our beach hire shop has a huge selection of British made four pole wind breaks and classic reclining deckchairs as well as our exclusive Ocean Sports Centre merch. Why not pop in and take a browse.
If this were not enough Carbis Bay is blessed with soft white sand, clear blue water on the UK's only privately owned Blue Flag beach – we have any number of ways for you to explore the treasures of the bay as an individual, a family or a group with our guided tours, safari's, lessons and hire options.
The quickest way to book your activity is to book online, alternatively bookings can be made directly with us on the beach or over the phone – please be aware during busy periods our staff may not be able to get to the phone as quickly as we'd like to.
Outside of peak season (school summer holidays) we have enough equipment for most customers to turn up and hire equipment on the day however, during peak season or lush sunny days before schools break up we strongly recommend avoiding disappointment by booking in advance using our online booking system.
We pride ourselves in going the extra mile in providing quality lessons and equipment for our customers; we work closely with Starboard UK and renew our boards and paddles each year. Not only is Starboard the market leader in quality boards (you wont see our boards bending like bananas out on the water) Starboard was the first SUP manufacturer to sign up to the Parley programme leading the way with green technology and environmental stewardship. We are also an accredited AALS (Adventurous Activity Licensing Service) and ASI (Academy of Surfing Instructors) Centre – this ensures we have the best equipment, safety standards and procedures in place.
Our Hire Centre works on regular time intervals throughout the day and has a huge selection of equipment allowing customers, on most occasions, to just turn up and take what's at the next available time slot. During busy periods, particularly during peak season (school holidays) we strongly recommend that you book in advance – this is most easily achieved by booking what you would like to use and when online. Alternatively, bookings can be made over the phone or simply pop down and say hello if you're able to.
Please be patient though, during peak times it can be difficult to answer the phone while we are dealing with customers on the beach.
Please be aware that all hire must remain within our sight and between the headlands of Carbis Bay – if you would like to travel further please go to our Activities page and check out our guided tours and lessons, where our qualified instructors can safely guide you around the bay, learning as you go, about hidden ecological wonders and an area steeped in maritime and cultural history that shaped the modern world.
If you would like to call us or email us your specific requirements.
Office number: 01736794782
Email: thebeach@oceansportscentre.co.uk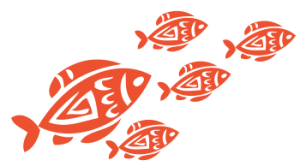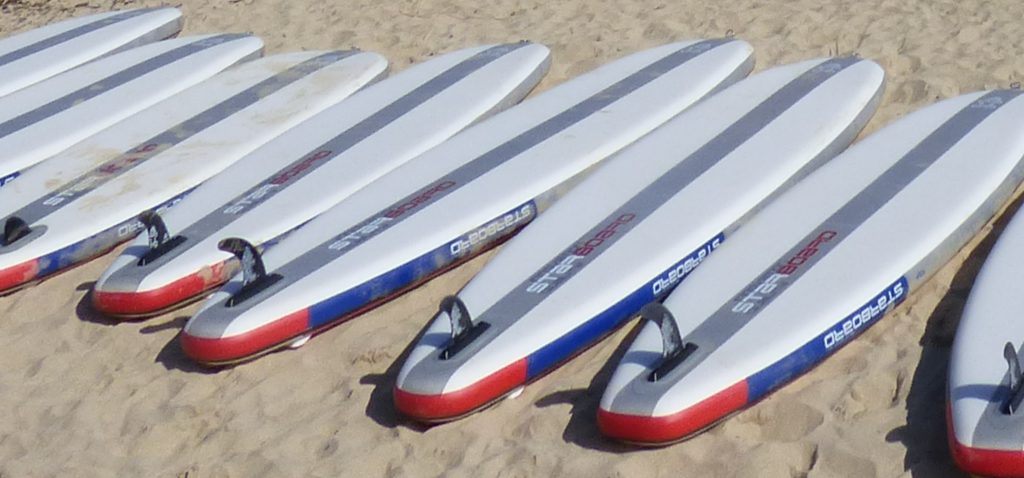 Stand Up Paddleboard Hire
SUP, or stand up paddle board, is an extremely social way to enjoy the ocean. Unlike surfing, learning to stand up can take minutes and gives paddlers a unique perspective out on the water allowing you to see deep through the water and coves.
Please be aware that for your safety that, on occasion, age restrictions can apply. All hire under 12yrs must be supervised by an adult.
| | | |
| --- | --- | --- |
| Stand-up-paddle board | One Hour | |
| SUP Board | £10 | |
SUP Board
SUP Paddle
Changing facilities on the beach
Reduced wetsuit hire if required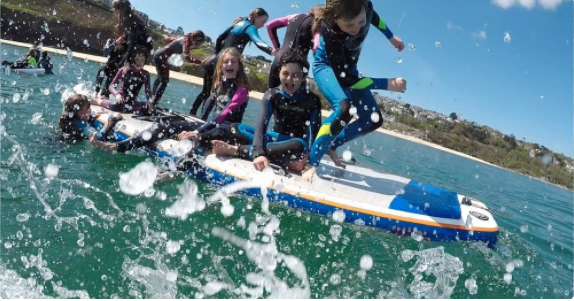 Our two Mega SUP's are the most fun you can have out on the water as a group or family all together – whether its bombing around the bay, sunning yourselves while sitting or laying on the board or simply using it as a dive platform you will return with broad grins and jelly like legs!
Please be aware that for your safety a minimum age is required (8yrs) and that hire must be supervised by an adult – please ask our team at the beach if you have any alternative requirements.
| | | |
| --- | --- | --- |
|  Mega Sup | One Hour | |
| Eight Person SUP Board | £30 per board | |
Board
Paddle's
Buoyancy aids
Changing facilities on the beach
Reduced wetsuit hire if required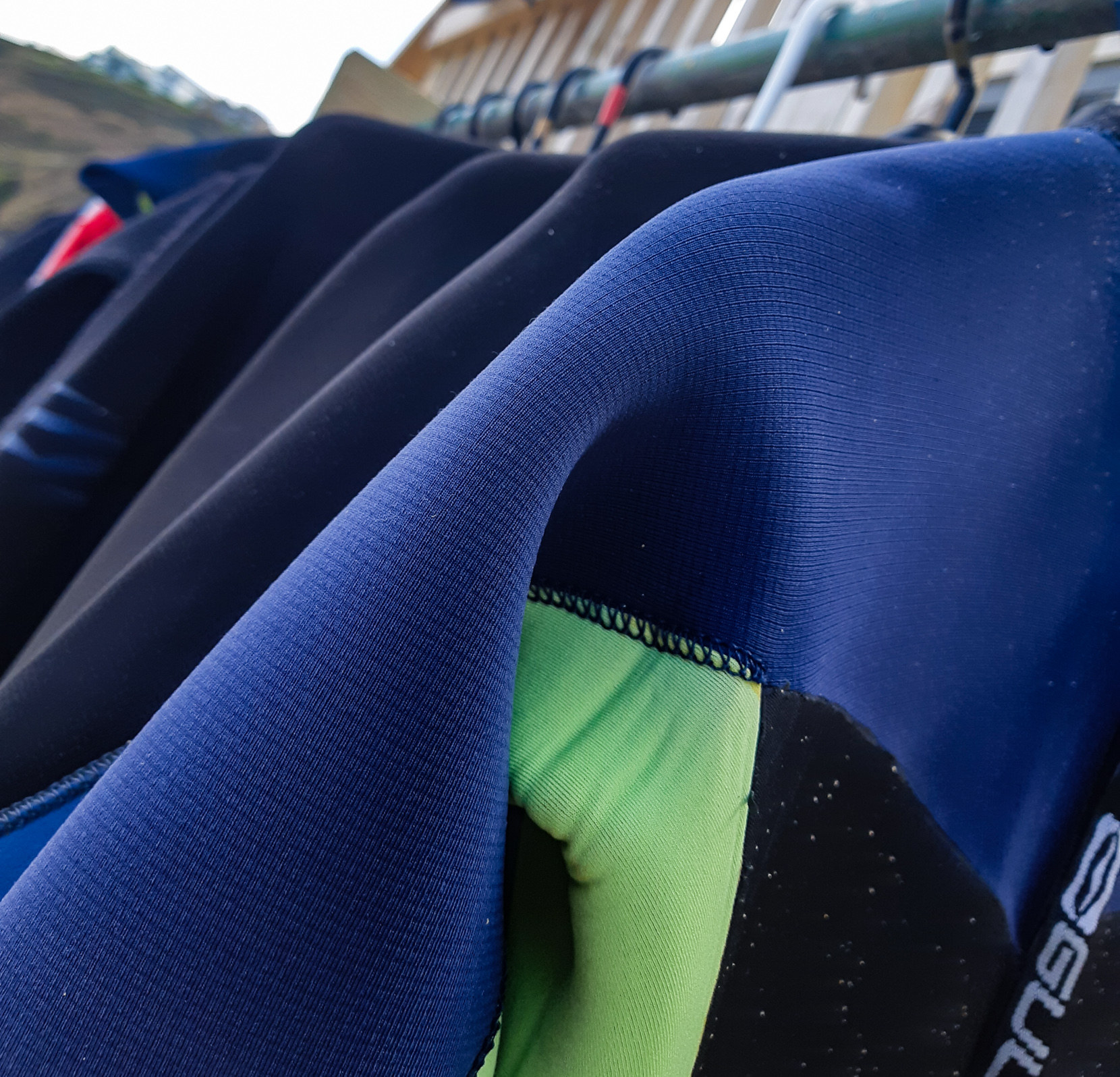 We have a full range of child and adult wetsuits available for hire as well as wetsuit boots.
All of our wetsuits are of the highest quality and are the thicker and warmer winter wetsuit for your comfort.
Please be aware that we are unable to reserve wetsuits, and are rented on a first come first served basis on an hourly, half day or daily basis.
| Wetsuit | Half Day | Full Day |
| --- | --- | --- |
| Adult / Child | £5 | £10 |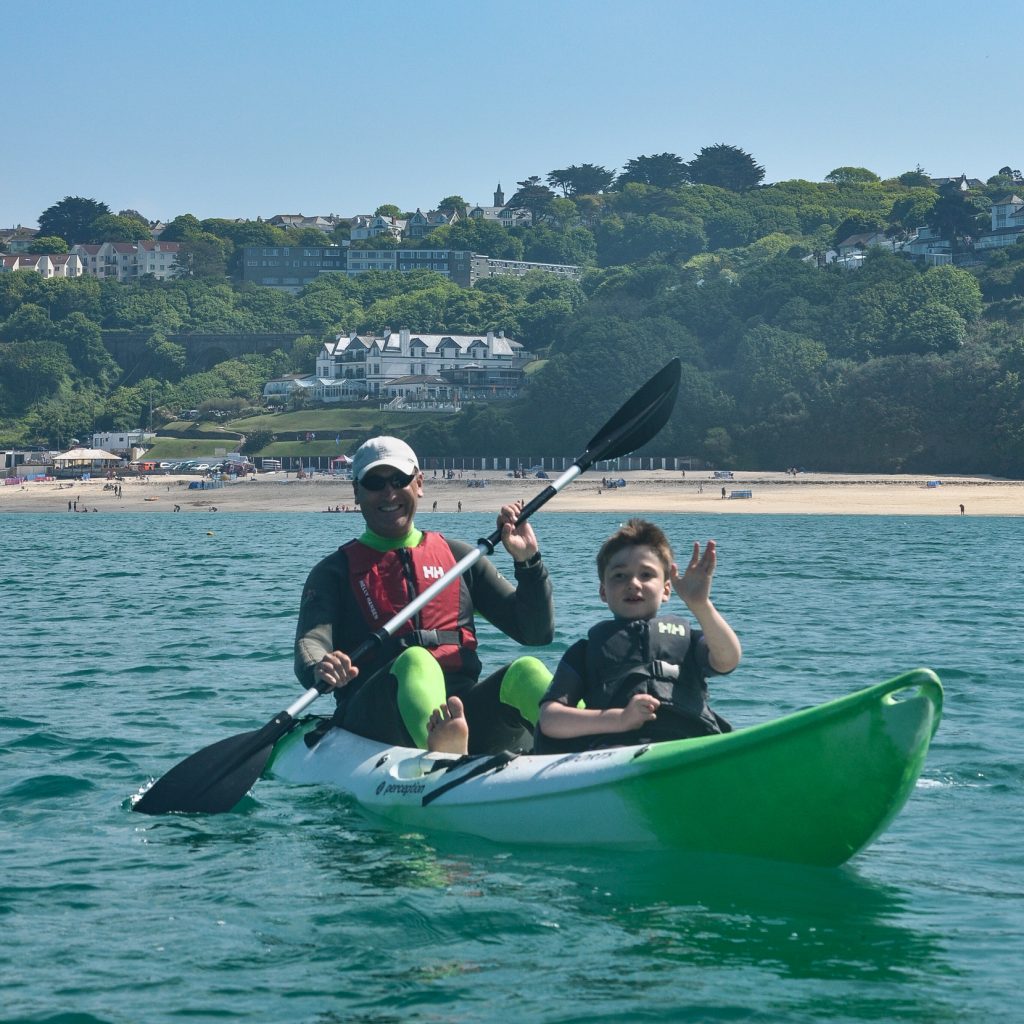 Kayaking is a great way to get out on the water. We use single and double 'sit-on' plastic kayaks which are inherently very stable – the placid waters are ideal for novices. All paddlers must remain within the headland of Carbis bay – if you would like to travel further around the bay toward St'Ives please selected our guided tour option.
Important Note:
Please be aware that our kayaks are rated for those up to 18 stone (120kg) and a height of 6'6 (197cm) for your safety and that, on occasion, age restrictions can apply due to prevailing sea states. All hire under 12yrs must be supervised by an adult. We can accommodate those who require a higher rating by using our Hawaiian Canoe as a guided tour only.
| | | |
| --- | --- | --- |
| Kayak Hire | One Hour | |
| Single Seat | £10 | |
| Double Seat | £15 | |
Kayak
Kayak Paddle
Life Jacket
Changing facilities on the beach
Reduced Wetsuit hire if required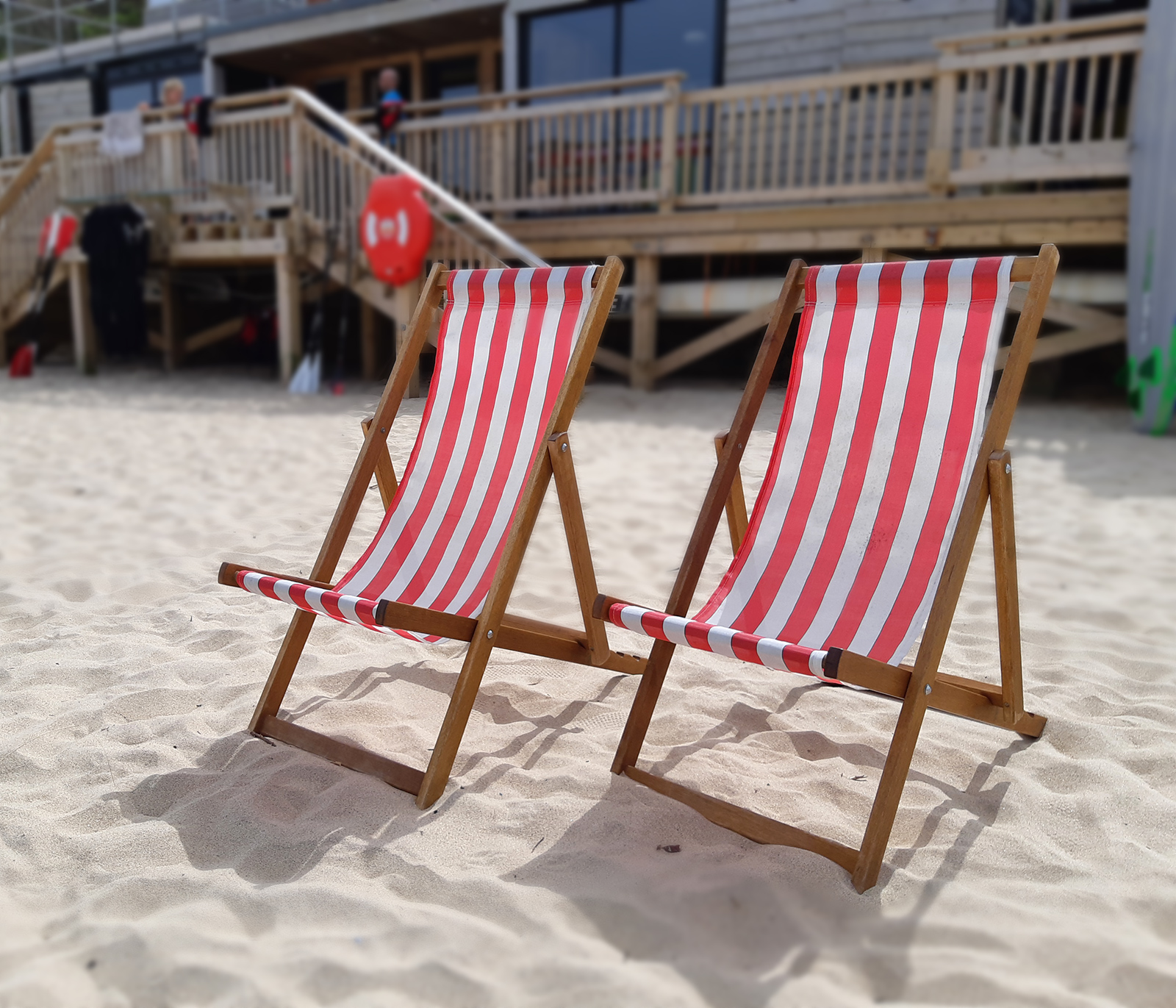 Quintessentially British. Our quality UK made chairs and windbreaks are indispensable and a must for any beach loafing activities! Available to book on the day and are on a first come first served basis (no pre-booking available).
| | | |
| --- | --- | --- |
| Deck Chair & Wind Break | Half Day   | Full Day |
| Deck Chair | £3.50 | £5 |
| Wind Break | £3.50 | £5 |
On arriving at the centre to hire your kit you will have a safety briefing. This is to let you know where it is appropriate to paddle and if there are any potential hazards, e.g. tides, wind direction etc, always follow the guidance given to you, it is for your safety.
Full Season:
Easter through to October Half Term
Peak Season:
English Summer School Holidays, Open 7 days a week
9-00am to 6-00pm (first hire is at 10 am and last hire 16:15pm)
Outside of Summer School Holidays:
Advanced Bookings for Tours and Lessons only, weather dependent last hire 3pm
Phone 1: 07533 695 031
Phone 2: 07970 629 493
Email: thebeach@oceansportscentre.co.uk