We all need to create less rubbish on holiday.
This time of year we all think about going away with the family, here's a few tips on how to make sure it isn't a rubbish time!
We live in a town which relies on thousands of people wanting to get away from it all, every year. It's what makes St Ives, Carbis Bay and, if we are being honest, the whole of Cornwall. Tourism has become our number one money earner but along with it there is a down side and it is rubbish… literally, rubbish!
Here at the Ocean Sports Centre one of our key missions, alongside all the SUP Lessons, kayak tours and Hawaiian canoe experiences is raising awareness of the damage so much waste is doing. Our oceans are filling up with rubbish, we need to find ways to create less rubbish on holiday.
We all have to do something to help this situation which is currently getting worse and worse each year. Here are 6 things you can do while you are on holiday to help:
Hire boards and wetsuits. – This is a simple one really but difficult because it's nice to buy a present when you are on holiday, and a cheap wetsuit or surfboard seems like the perfect thing. But cheap wetsuits and boards don't work very well, a cheap wetsuit will be ill fitting and leak, a cheap board will break easily. Hiring kit will give you a better experience because it is better quality. It will fit better and when you are done with it you can just hand it back – no cleaning or carrying required!
An interesting article about cheap boadyboards: https://www.cornwalllive.com/news/cornwall-news/you-should-never-buy-cheap-3123966
BBQ at home… we all love a BBQ on the beach but one of the largest contributors to the ever growing pile of rubbish people leave behind is disposable BBQ's. Yes they might be made of metal and recyclable but honestly, have you ever tried to keep sausages on one of those things while trying to cook a burger at the same time? If you must BBQ at the beach, buy a decent portable one and take it with you. And above all, do not bury your hot coals in the sand – they will stay hot for hours and could burn someone if they step into them or dig into them, even the next day.
A little help finding a suitable and portable BBQ so you can cook on the beach – https://www.cookbakeeat.com/best-portable-bbqs/
Recycle – yes even on holiday! It is so easy to get away, relax, and leave your priorities at home, along with them, recycling. Unfortunately, we don't have a nationwide recycling policy and each area has their own process meaning you need to get up to speed pretty quickly try this website recyclenow.com/local-recycling enter the local postcode (For St Ives or Carbis Bay you can use the centre's Post Code – TR26 2NP) and you can see a list of centre's and what you can recycle there.
Take 3 For the Sea – the Take3 organisation believes in simple actions can address big problems, in this case, the Plastic in our ocean issues. They promote the simple action of taking 3 bits of extra rubbish away with you when you leave the beach. It doesn't matter how big or small, each bit of rubbish will make a difference. In fact this is something you can do wherever you go, and make a difference everywhere.
Leave only foot prints. Leave less and take everything with you! It might sound obvious but, if you plan a day out, take everything in reusable tins or tubs which will last for your whole holiday rather than taking everything in disposable packaging which will only create rubbish.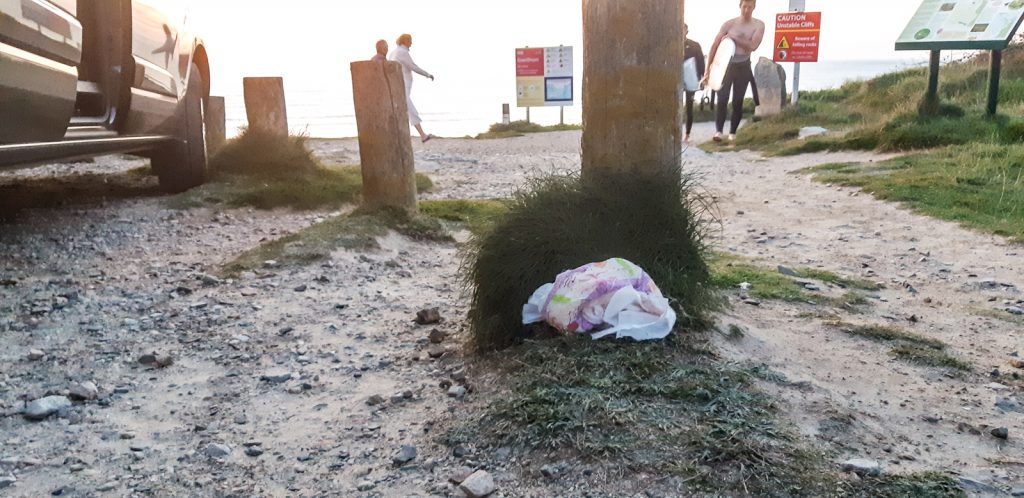 As we all know the greatest effects of climate change are felt on the edges of the world, in places where nature takes over, the ice caps are one and the coast is another. We see the first hand the devastation that single use plastics are having on our oceans so let's all pull together and take some steps towards change and hopefully we will all be able to enjoy playing with nature.