We can't believe it is August already, but we know it is because St Ives is full to bursting and it takes 10minutes to get to work, not the normal 5. On the upside we are getting out on the ocean almost everyday with Sealife tours and SUP lessons – introducing people to this amazing playground where the ocean meets the land.
However, we do get down days when the weather isn't on our side and it is those days when we get a chance to catch up and look to the autumn competition season to see what we have coming up… to see what we are training for, and to make sure we are ready. To keep the competition edge sharp we have a little local fun series which we run for the Club, and guests, on Saturday eveneings – we have 2 dates left if you are interesed:
Summer Fun Super Series
The last of the Summer fun series, with the bank holiday we will be celebrating with chaotic fun out on the water followed by BBQ and outdoor movie night, what better way to round of a fantastic summer. Remaining dates are; August 17th and September 7th.
The Round Hayling Island Challenge
Looking a little further ahead our 6 man Out-Rigger crews are busy training for the Round Hayling Island Challange. 22km of flat water enduro grind forming part of the 2019 UK six man outrigger series. Two years ago our mixed male and female outrigger crew finished 3rd only four minutes behind the eventual winners. This year our club will be fielding both an all female and male crew, both with eyes on not only winning the race but winning the national series.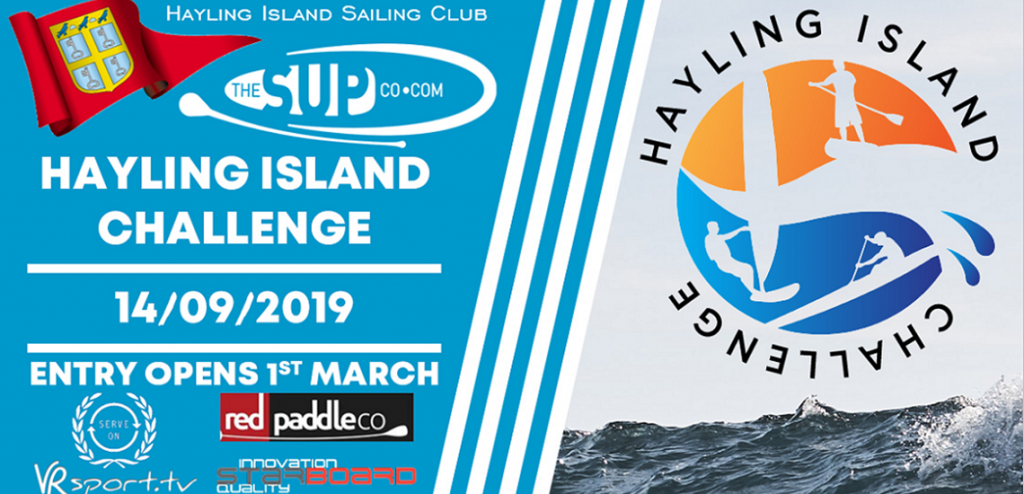 For many, Hayling Island is considered the spiritual home of windsurfing. The Round Hayling Island Challenge first staged in 1980, the 14 miles' circumnavigation can take anything from 60 minutes to 6 hours. This iconic event provides competitors with a number of challenges in this historic race, including navigating under the road bridge that links the island to the mainland and through the remnants of the old railway bridge as well as through the narrow entrance to Langstone Harbour before the final challenge across the seafront into Chichester Harbour to complete the circumnavigation at HISC. Keep posted on our community page to see how we get on.
British SUP Club Championships
The British SUP Club Championships was set up in 2013 to allow clubs from all over the UK to come together and celebrate their success's and compete as a team. Young or old, novice or pro there are races and events for every level to see which club covers the broadest spectrum and can be said to be no 1. Now in it's seventh year the event will have Junior events, senior events as well as many other disciplines.
As a club we have attended five of the seven championships with an emphasis on getting the juniors out of the shire for weekend, having a taste of what other youngsters their age are capable of and to have a damn good time. This year well be going up in one fun bus and as with every year will be camping on site, whenever there is a road trip we always try to tie in an activity for the drive home, we will confirm what crazy fun activity we will be doing shortly.
World and European Championships
Ocean Ski Championships
The 2019 ICF Canoe Ocean Racing World Championships will be held in the north-west of France, at the stunningly beautiful Saint-Pierre Quiberon in Brittany. It will be the first time the World Championships are held in this region, and the first time in France.
It will also signal a return to Europe, after the previous two World Championships were held in Hong Kong (2017) and Tahiti (2015). Once again the South Africans and the Australians will be expected to perform well, especially if the conditions are challenging, but watch out for the French at home.
This year will be the first time that the GB team has produced a full team completement with juniors, under 23 and open athletes – even more special is that many who will be competing have come through the Ocean Sports Academy and have been coached by Glenn Eldridge.
Glenn is now the National coach for Ocean Ski and with five paddlers across all three ages groups having been coached by Glenn it is quite a proud moment. Flying the flag for the Juniors is Finn Dungavel, under 23's brother Euan and Alice Bray along with James Drage plus, Ryan Lark and Lewis Kirton all taking national caps and all stemming from Ocean Sports.
European Surf Life Saving Championships
One week later another protégé of the Ocean Sports Academy Emily Corin along with Euan will both be representing GB at the European champs to be held in Italy, only a week after the long distance ocean ski in France. Emily is familiar face to you all as she works most days down at the Ocean Sports Centre and as a causal beach lifeguard for the RNLI on her days off.
Euan, along with the other youngsters and Emily can be seen preparing for their world and European championship campaign early mornings at the crack of dawn or late afternoon on their skis down at the Centre.
Emily is currently a World medallist and is looking to cement her place as Europe's top female athlete, keep posted via our FB page or http://www.lifesaving2019.it/event/35/event-information/about-the-event
Good luck gang.
And In Other News
Cornwall Seal Group Research Trust Survey
As part of our support for the Cornwall Wildlife Trust the Ocean Sports Centre will be assisting the Cornwall Seal Group Research Trust (CSGRT) in their evidence based research. The CSGRT is a conservation charity supporting a large network of active citizen scientists who routinely survey seals on their local patch in order to learn more about grey seals, a globally rare marine mammal for which the UK has a special legal responsibility to protect (JNCC).
Each seal has a unique fur pattern that enables it to be photo identified throughout its life. Learn the pattern and you can recognise the seal and we will be going out in our kayaks to help them ID and photograph them all! Sue Sayer who runs the projects is so adept at recognising each and every see she is able to track the life stories of individual seals to be built up over time.