FULL ON ACTION IN OCEAN SKI, OC; SUP AND PRONE BOARDS AND PART OF THE GB SUP AND UK OUTRIGGER SERIES.
EVENT SUMMARY
Two day race format: July 6th & 7th
Saturday July 6th
Small Craft (SUP, Ski, Prone, OC1 & 2) – long course & technical course
National SUP Race Series
Sunday July 7th
Big Craft (OC 4 & 6) – long course & diamond pursuit
UK Outrigger Race Series
EVENT THEME
The Ocean Sports Centre at Carbis Bay at the heart of ocean paddle sports in the UK, with our amazing Centre right on the beach.
Our goal is to provide an imaginative and inclusive event that will show the sport we all love.
EVENT FORMAT
This two day event will incorporate Outrigger canoes, Stand Up Paddle boards, Prone paddle boards, Skis and OC1 & 2 in both technical (short course) and distance disciplines. The event will be split by craft type; Saturday with small craft (SUP, Ski, OC1 & 2 and Prone) plus, there will fun challenge races for Juniors and developing paddlers over a similar course. Sunday will see the big boats hit the water in the morning fighting it out over the long course with fast and furious paddling later that day in the new 1500m diamond pursuit.
All V6 outrigger crews should contact me directly regarding beach access and rigging options prior to the event. Email: glenn@oceansportuk.com Mobile: 07533695031
EVENT DISTANCES
Both Days will follow a similar format, distance events earlier in the morning and short course later in the afternoon.
Distance: this is categorised as being longer with fewer turns.
Outside course 14km for those with significant ocean experience
Inside course 7km for those developing or new to the sport looking to gain experience on the ocean in a safe and friendly environment*
Technical: this is categorised as short (up to 3-4km or no longer than 20 minutes in duration*) 'M' shaped course with more frequent turns and short run transition.
If you are uncertain of whether to enter either the more challenging 'Outside Course' or the more sheltered 'Inside Course' simply enter your discipline and we are happy for you to talk with us and decide on the day at registration.
*distances are approximate
Diamond Pursuit: similar to indoor track cycling, head to head time trials starting and finishing in the same place, crews are eliminated until a Grand finale. Approximately 1500m.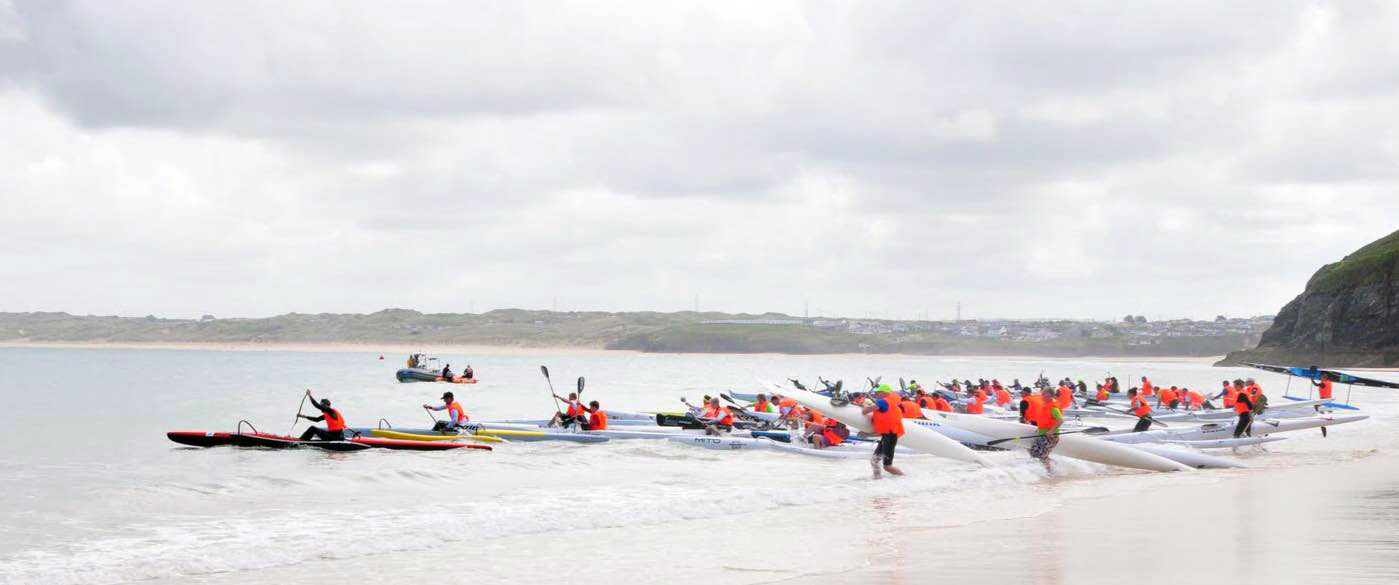 OUTRIGGER CANOE'S
STAND UP PADDLE BOARDS
Inflatable (up to and including 12'6)
N1SCO
Hard boards 12'6
Hard boards 14′
* this forms part of the GB SUP Series Tour
Challenge class will comprise hardboard and inflatable divisions with board lengths up to 12'6 – following the ethos of this event its focus about trying something new, testing developing skills and sharing the experience with others safely.
PRONE
* this forms part of the GB SUP Series Tour
Prone paddle boards can up to 12ft or 10'6 (surf life saving) board lengths.
SKI
Ocean Ski
Surf Life Saving Spec
AGE CATEGORIES
Age categories for all craft will be the following:
Open 18 – 39
Masters 40 – 49
Vet 50+
An additional age category will be included for the GB National SUP Series of Grand Kahuna 60+. Challenge classes will be treated as a single age group.
ENTRIES OPEN MARCH 28TH
TWO FOR ONE (ENTRY PRICE INCLUDES TWO RACES)
Enter the distance race and be automatically entered into the technical event in SUP.
MULTI CRAFT DISCOUNT
Enter one event in one craft and receive a discount when entering a second in a different craft e.g. race OC1 & 2 or SUP with a second race on Sunday in the V6.
ENTRY FEES
Individual all craft                                         – £35
(all age categories female & male excluding Junior)  
Double Ski & OC2                                         – £35 per person
V6 & OC4                                                        – £20 per person
Juniors (SUP inc. female & male)             – £5 per person
Multi Craft Entry (SUP, OC & V6)            – £45 (this option is for those competing on one craft on Saturday & V6 on Sunday)
HOW TO BOOK
Simply click on the big Red button below! Date is automatically selected as the 6th, if you can't see option to select an event scroll down a little and a drop down box will be visible. Decide which craft and course you would like to register for e.g. all single craft 14km outside course. Once selected you will be taken through the booking system and asked about your details and importantly which age group you would like to compete in. For V6 Outrigger Canoe competitors the entry fee at checkout is the total cost for all six crew.
Those competing in Double and OC2 will need pay for both paddlers at the time of booking by selecting the two person option.
SATURDAY JULY 6TH DISTANCE (ALL SMALL CRAFT)
The main racing fleet for all craft will take on the longer (14km) 'outside' course while less experienced paddlers stay within the more protected St'Ives bay (7km).  Early afternoon will see SUP paddlers take on the technical discipline, approximately 3-4km (15-20 minutes), starting with Juniors at 3pm followed by One Design, Challenge and hard board 12'6, Prone 12ft and 14ft boards – all categories except Juniors will run with separate female and male divisions or staggered starts if insufficient numbers are present.
9:00am Registration
9:45am Event briefing
10:15am Race start (all small craft & categories)
SATURDAY JULY 6TH TECHNICAL (SUP & PRONE ONLY)
1:00pm Technical registration
2:30pm Race Briefing
3:00pm Junior & Challenge
3:45pm One Design
4:30pm 12'6 hard boards
5:00 Prone boards
5:30pm 14′ hard boards
6:30pm Presentation
Times for the technical event are provisional and are based upon numbers. Technical Racing will be over a double 'M' shaped course for all boards. Please see course maps below.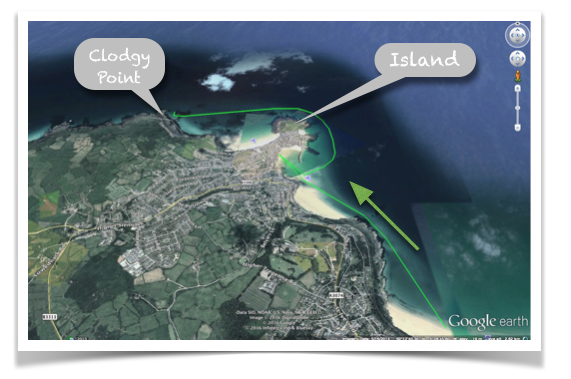 Open (all craft) will start from Carbis Bay (bottom right) and head straight for  St'Ives Harbour rounding Porthminster point making their way toward St. Ives. Competitors will then make their way past the 'Island' toward Clodgy point (far left) turn and head for the estuary cardinal mark – no waves this year!
After making the deep water turn around 'Clodgy' (far left) competitors will pass back round the 'Island' again and make the long down wind leg toward the Hayle estuary Cardinal mark (far right). Competitors will turn and head back out without having to confront breaking waves and straight toward Carbis Bay Beach to finish.
Single and double ski competitors will follow the same starting procedure as the Outrigger paddlers.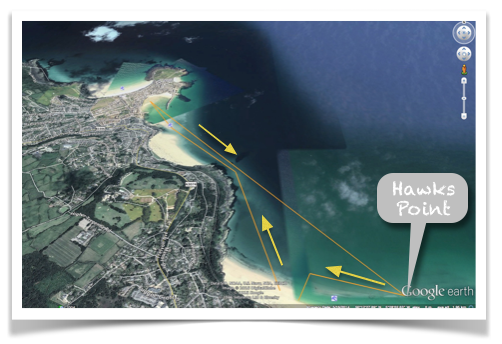 Paddlers using the inside course will follow the main field of competitors toward St'Ives harbour and turn around the same marker buoy (far left). Once around the turn paddlers will make their way back to the far left hand side of Carbis bay turning at Hawkes point (bottom right). The finish line will be in the middle of the beach.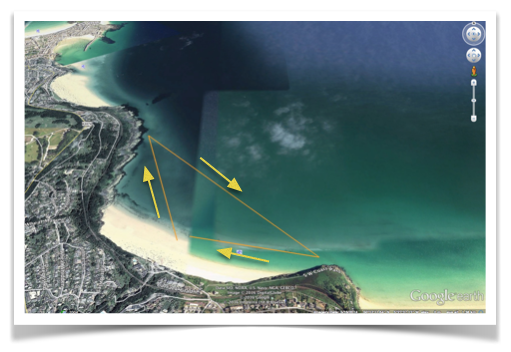 If conditions are not suitable for the whole field paddlers will remain within the sheltered headlands of Carbis Bay and will complete two laps of the course.
SUNDAY JULY 7TH DISTANCE (BIG CRAFT)
V6 and OC4 will follow the same course route as Saturday, if conditions are not suitable the inside course, a more protected course (staying within St'Ives Bay) will be utilised. Both the inside and outside courses will start and finish on the beach at Carbis Bay (see route maps above). Ultimately the direction of travel around the course will be dictated by the prevailing wind conditions to maximise the longest down wind route.
9:00am Registration
9:45am Event briefing
10:15am Race start (all small craft & categories)
SUNDAY JULY 7TH DIAMOND PURSUIT (V6)
Similar to indoor track cycling, head to head time trials starting and finishing in the same place, crews are eliminated until a Grand finale. Only two outrigger crews will compete at the same time; both will start and finish on the same line while travelling the same diamond shaped course in opposite directions. To avoid crews colliding the final apex turn will have two turn buoys separating boats sufficiently for the final run back to the beach. Approximate course distance 1500m.
1:00pm Registration Race Briefing
1:30pm Race Start
3:00pm Presentation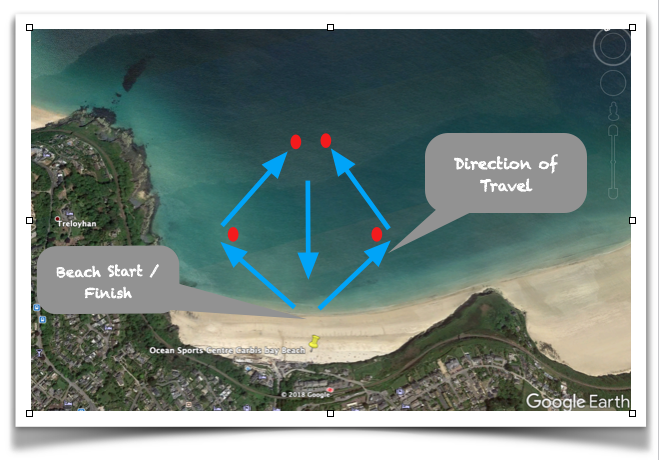 CAR PARKING OPTIONS
To view the Google map or use Google Street map to tour the area – click here
– Carbis Bay Hotel Beach Car Park:  A daily rate applies. Parking right next to the beach. Very busy during high season (Street map Link)
– Carbis Bay Branch Line Train Station Car Park – a small pay and display car park with a capacity of 20 cars close to the beach (Street map Link)
– Porthrepta Road Council Car Park – up a steep hill from the beach, room for 200 cars, pay and display. Charge applies (Street map Link)
– St Anta Church: On Porthrepta Road, during peak weeks, offers car parking for a small charge per day (Street map Link)
GETTING HERE
Road links are very good to St'Ives with several options to choose from generally routes from London will either take te slightly less direct motorway option via the M4 and M5 or the more scenic A303 taking you past Stonehenge and the stunning Dorset coastline – both options ultimately converge with the A30 (the main road into Cornwall) at Exeter. Travel time from London (288 miles) can take as little as 4hrs 34 min, airport routes listed above range from Brighton (5hrs 36 min), Cardiff (3hrs 54 min), Bristol (3hrs 30 min) Exeter (1hr 54 min) and Newquay (45 mins).
Train
Departing London Paddington to Penzance – changes often occur at Reading, Exeter and Plymouth although, direct routes are available. Travel time is approximately 5 ½ hours with tickets ranging in price from £75 with an 'early bird' saver ticket. There are a number of websites which tickets can be booked through go towww.firstgreatwestern.co.uk; www.nationalrail.co.uk or www.thetrainline.com
As a tourist destination St. Ives (including Carbis bay) has a huge selection of accommodation depend upon budget and preference ranging from the heart of the town to more secluded rural spots.
HOTELS
Carbis Bay Hotel (click here)
Boskeris (click here)
The Atlantic (click here)
APARTMENTS
In Carbis Bay
Carbis Bay Hotel Apartments (click here)
B&B
Coast (click here)
Headland (click here)
Hawkes Point (click here)
CAMPING
Hellesveor Holidays: Caravan & Camping (click here)
Mount Douglas Farm (click here)
Polmanter Caravan & Camping (click here)
Higher Pendaleath: Caravan & Camping (click here)
Ayr (click here)
FOR MORE INFORMATION ABOUT ACCOMMODATION OR ST. IVES TRY THESE TWO SITES:
St. Ives Tourism Association (click here)
Visit St. Ives (click here)